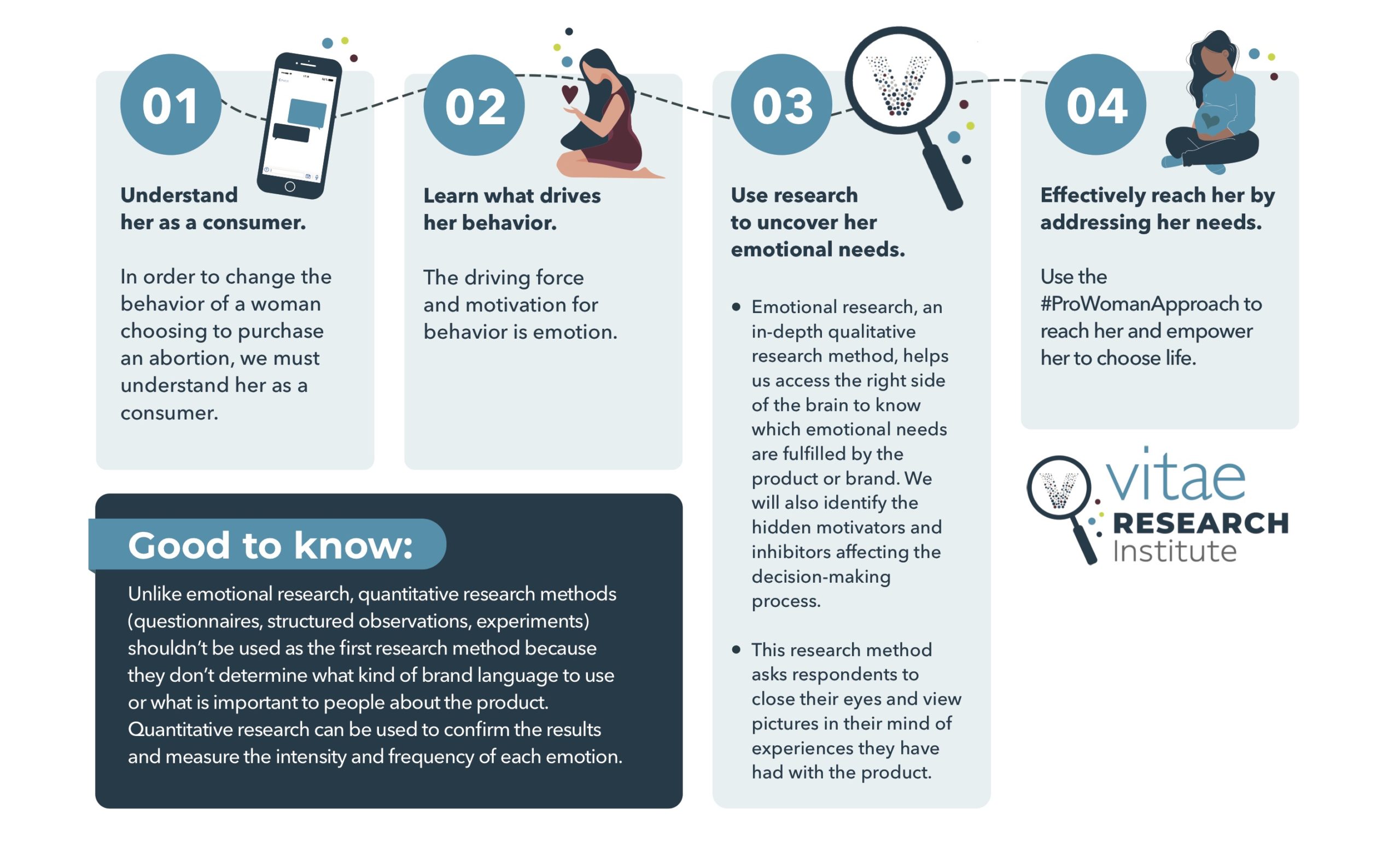 Right Brain
Research
Matters
Vitae leads the world in its research of decision-making. We encourage you to take look at these study summaries and contact us directly for more information and clarification.
Request a Research Summary Brochure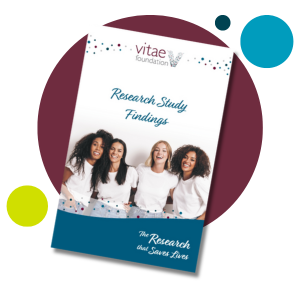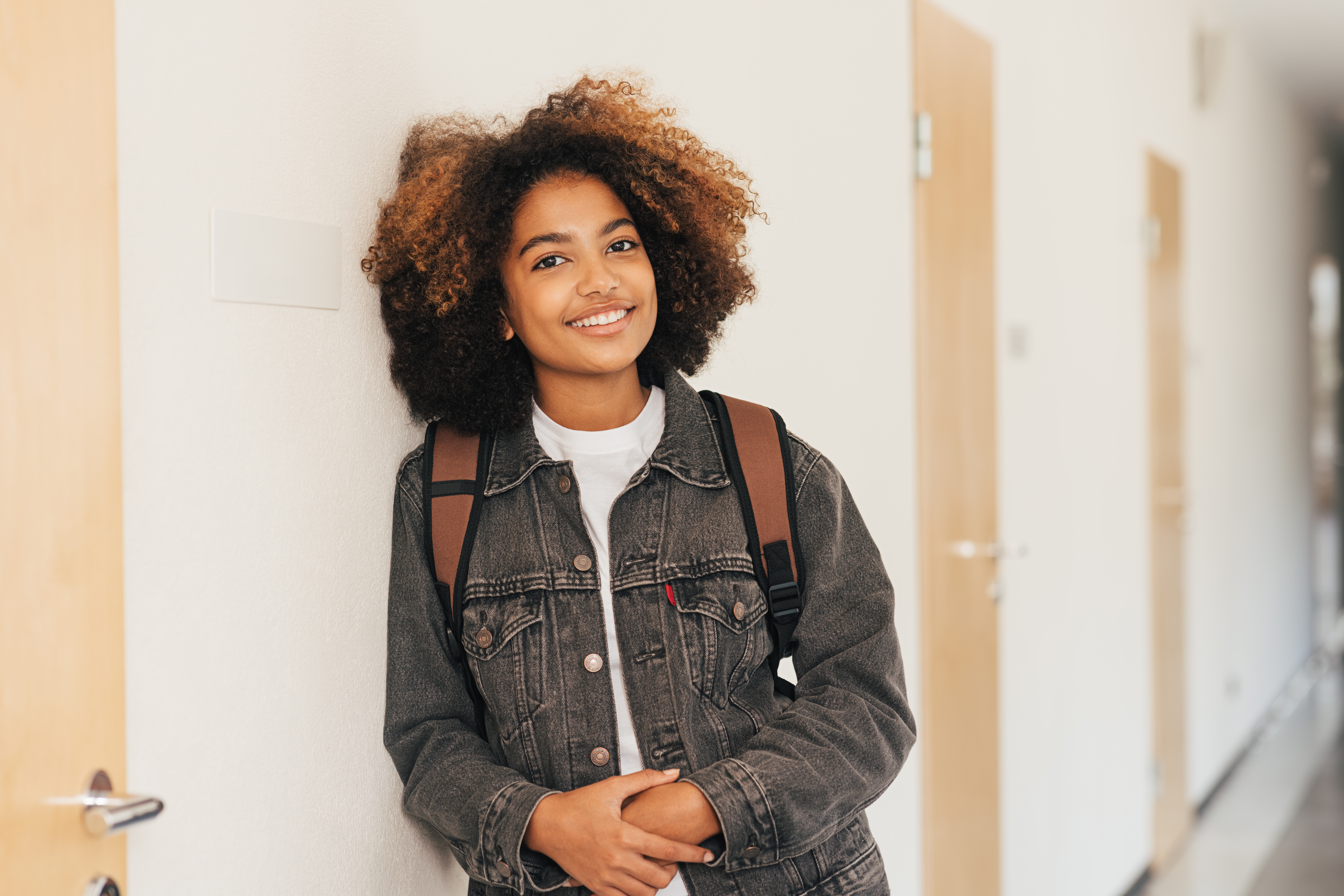 Life-Saving Right Brain Research
This article examines Vitae Foundation's research study Abortion—The Least of Three Evils as well as Paul Swope's article about it which was published in First Things.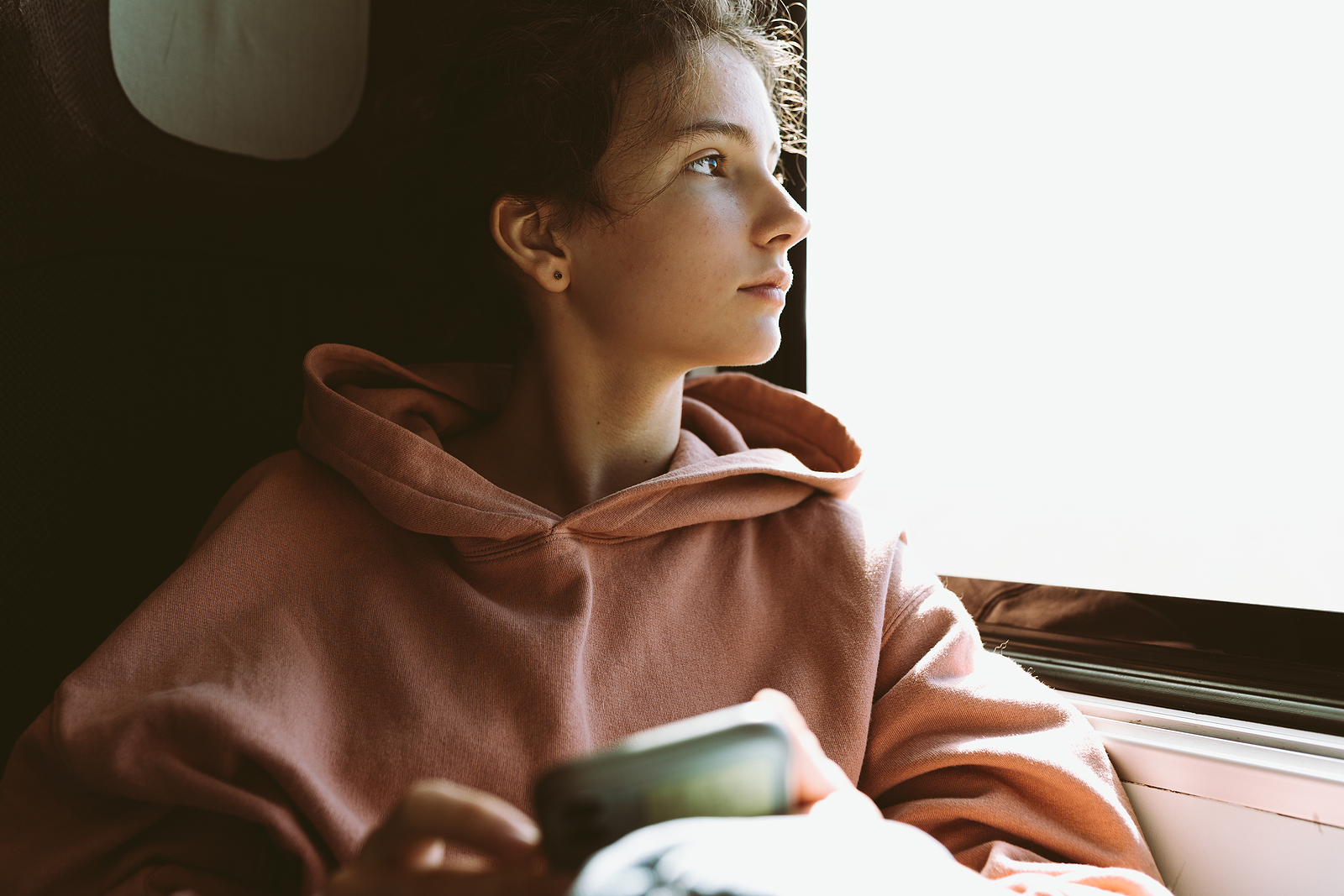 Abortion: A Failure to Communicate
This article examines Vitae Foundation's Abortion—The Least of Three Evils research study which helped understand why women who believe abortion is morally wrong can accept it under certain circumstances.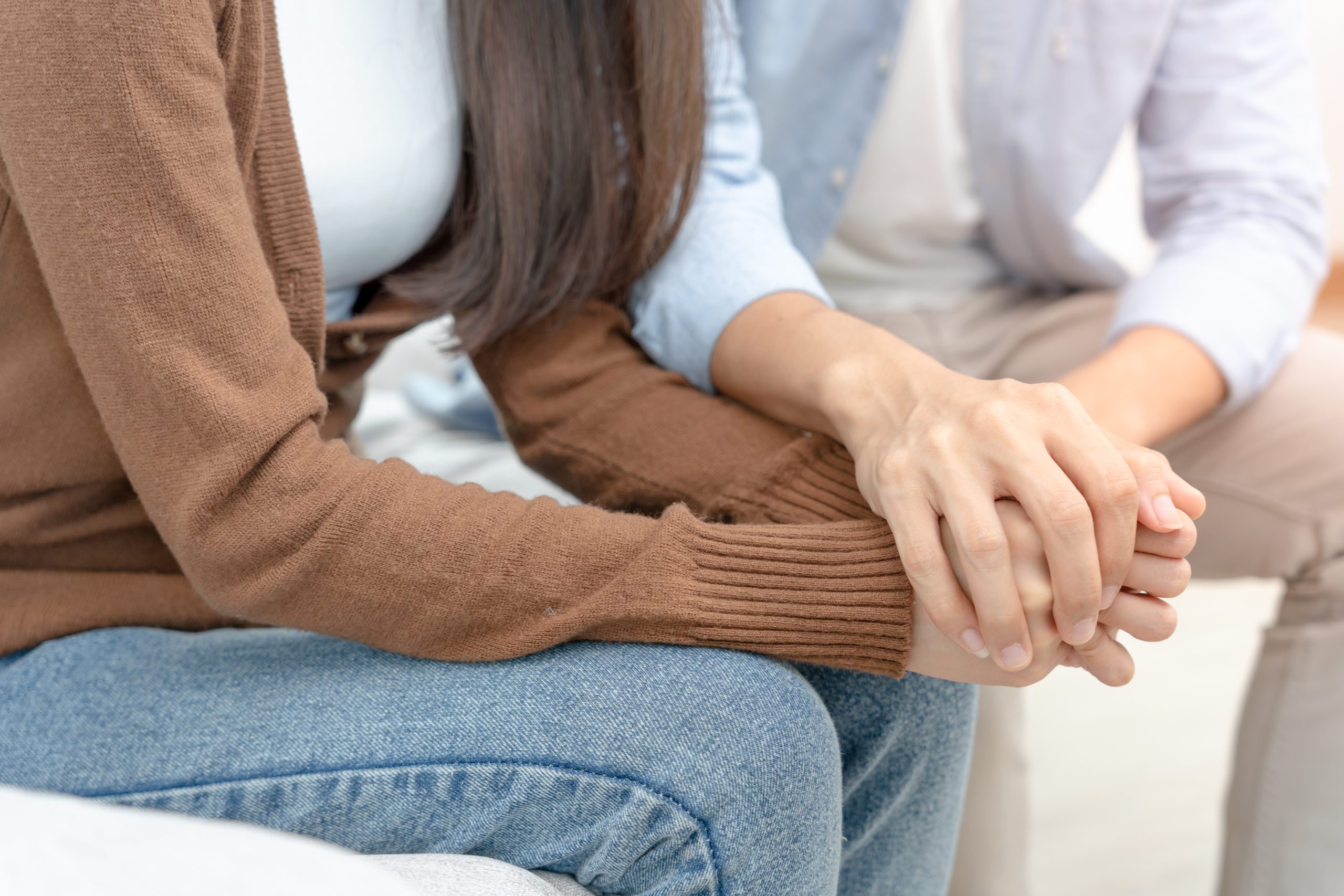 A New Understanding of the Trauma of Abortion
This article published by American Thinker examines Vitae Foundation's Abortion—The Least of Three Evils research study and is authored by Charles Kenny and Paul Swope.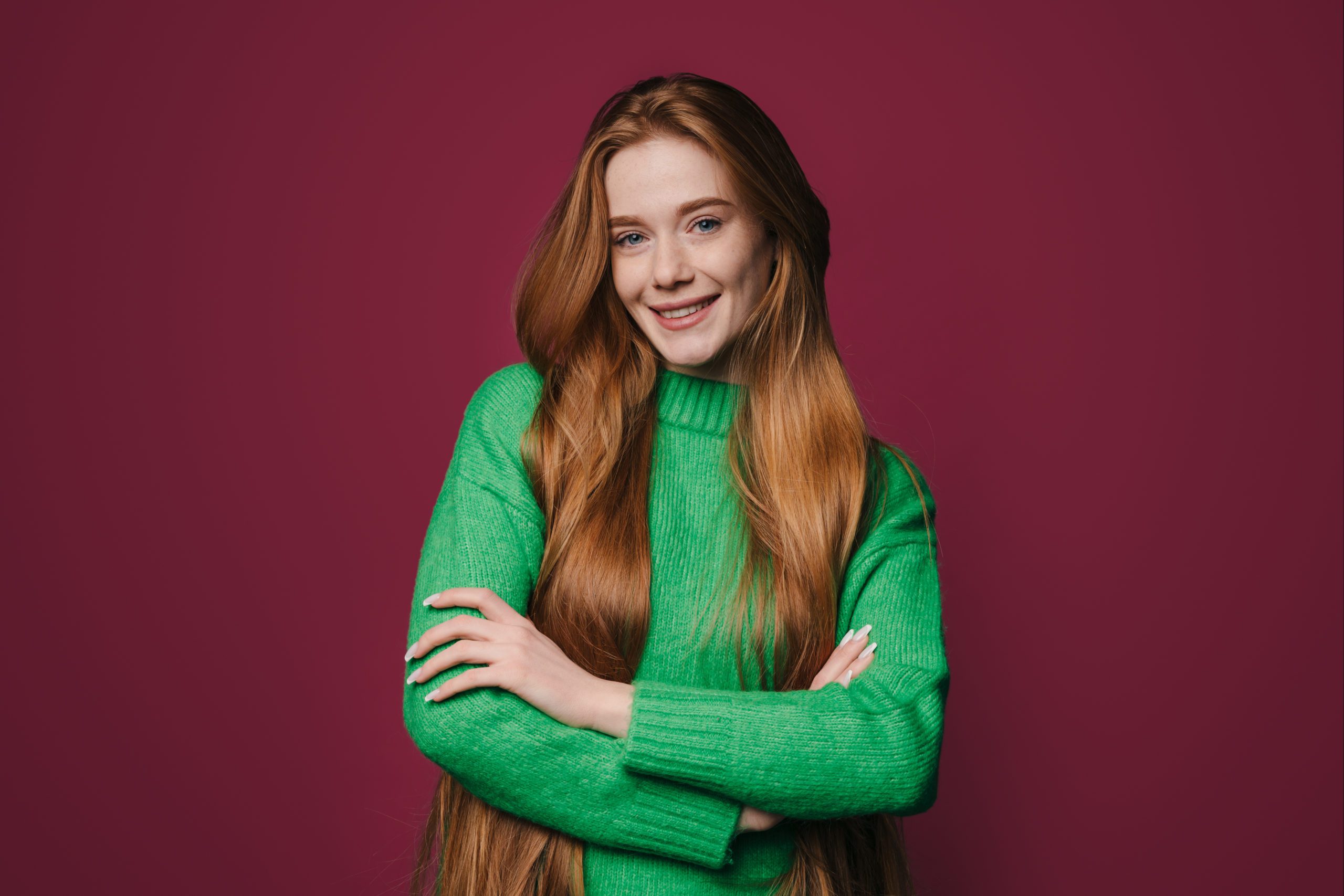 Saving Grace: The Planned Parenthood Brand & Branding PHCs
This article examines Vitae Foundation's Saving Grace research study which found that the Planned Parenthood customer can generally be divided into two categories: younger women in their fertile years and the "legacy customer," a previous Planned Parenthood customer who now refers, and in many cases, facilitates a younger sister or friend obtaining their services.
Minority Women's Study
The objective of Phase 1 (National Women's Health Study) was to explore external economic and cultural factors to understand how they may contribute to the abortion decision process. The objective of Phase 2 (HBCU Study) was to further explore the emotional motivators that drive Black women's perceptions about abortion.
Study Phases
Phase 1: National Women's Health Study (Complete): Conduct survey of 600 women to identify trends that could be helpful in refining message delivery for Black, Hispanic, Caucasian, and Asian women.
Phase 2: HBCU Study (Complete): Conduct complimentary research study to further explore the emotional motivators that drive Black women's perceptions about abortion. During this phase the Vitae team arranged a meeting with Dr. Martin Luther King Jr.'s niece,  Dr. Alveda King, to learn about what factors affect a Black woman's view of abortion. During this day-long meeting, Dr. King outlined the issues of slavery, racism, victimization, and eugenics and how they relate to abortion. Additionally, she helped Vitae identify people of influence, media channels and messages that would be effective in the Black community.
Phase 3 (Complete): Share initial findings with Pregnancy Centers and pro-life peers using Vitae Vault. Vitae also plans to develop media assets to reach students on HBCU (Historically Black Colleges and Universities) campuses. These outreach efforts will be based on the information we are gleaning from the study.
Phase 4 (In process): Utilize findings to create strategies and messages that other pro-life peers and faith-based organizations can use to support women and ultimately remove the drivers for abortion.
Additionally, this phase will help Vitae determine the best method of delivery for several racial groups.
Catch 22 (The perception of the Abortion Pill) Study
Aes abortion pills have recently become the most popular abortion method in America, understanding how to reach women who choose this method is crucial. Before this abortion method was available, there was an opportunity to intervene with women as they walked into an abortion facility. Now that abortion pills can be purchased online, the opportunity to intervene has also moved online.
Purpose
The objective of this study was to learn the psychological dynamics that cause women to choose chemical abortion over surgical abortion methods. Additionally, the study was conducted to determine young women's view of abortion pills—how they work, how they feel about the process, and how they would feel if the abortion pill was unregulated and freely distributed.
The findings of this research will help Vitae to more effectively intervene in the isolated decision-making process of these women, address their needs, and empower them to choose life.
The key findings of the study are as follows:
Respondents offered both positive and negative opinions on abortion. Despite extensive marketing and funding by the abortion industry, women are still somewhat conflicted with abortion altogether.
2. Respondents are able to differentiate between the "Plan B" and "Plan C"(the abortion pill). However, no respondent could cite the pharmaceutical name of either drug or how either pill worked.
3. Chemical abortion is strongly favored over surgical abortion. Respondents were generally under informed about what a chemical abortion entails which has resulted in the overwhelming belief that the process is "easier" than surgical abortion.
4. Respondents offer a wide range of mixed answers on
whether it would be a positive or negative situation if the abortion pill was universally available/unrestricted. While there was concern with unrestricted access to abortion pills, there was greater concern with abortion pills being inaccessible altogether.
5. Respondents, in general, are unaware of Abortion Pill Reversal (APR).
Study Phases
Phase 1 (Completed): Conduct interviews to discover what positive and negative feelings women had about abortion.
Emotional ConteXt conducted in-depth interviews with younger women (ages 20-34) in Orlando, Florida; Chicago, Illinois; and Seattle, Washington. All respondents qualified for the study by having "mixed feelings" about abortion, with none of them overtly
pro-abortion or pro-life.
Phase 2 (Completed): Vitae will collaborate with Heartbeat International to identify women who have considered or chosen abortion pill reversal. These women will be interviewed using emotional research methods.
Phase 3: Share initial findings with Pregnancy Centers and pro-life peers.
Phase 4: Vitae evaluates research study findings and develops messaging strategies to reach women considering chemical abortion— and the potential use of abortion pill reversal.
Research studies
conducted by our peers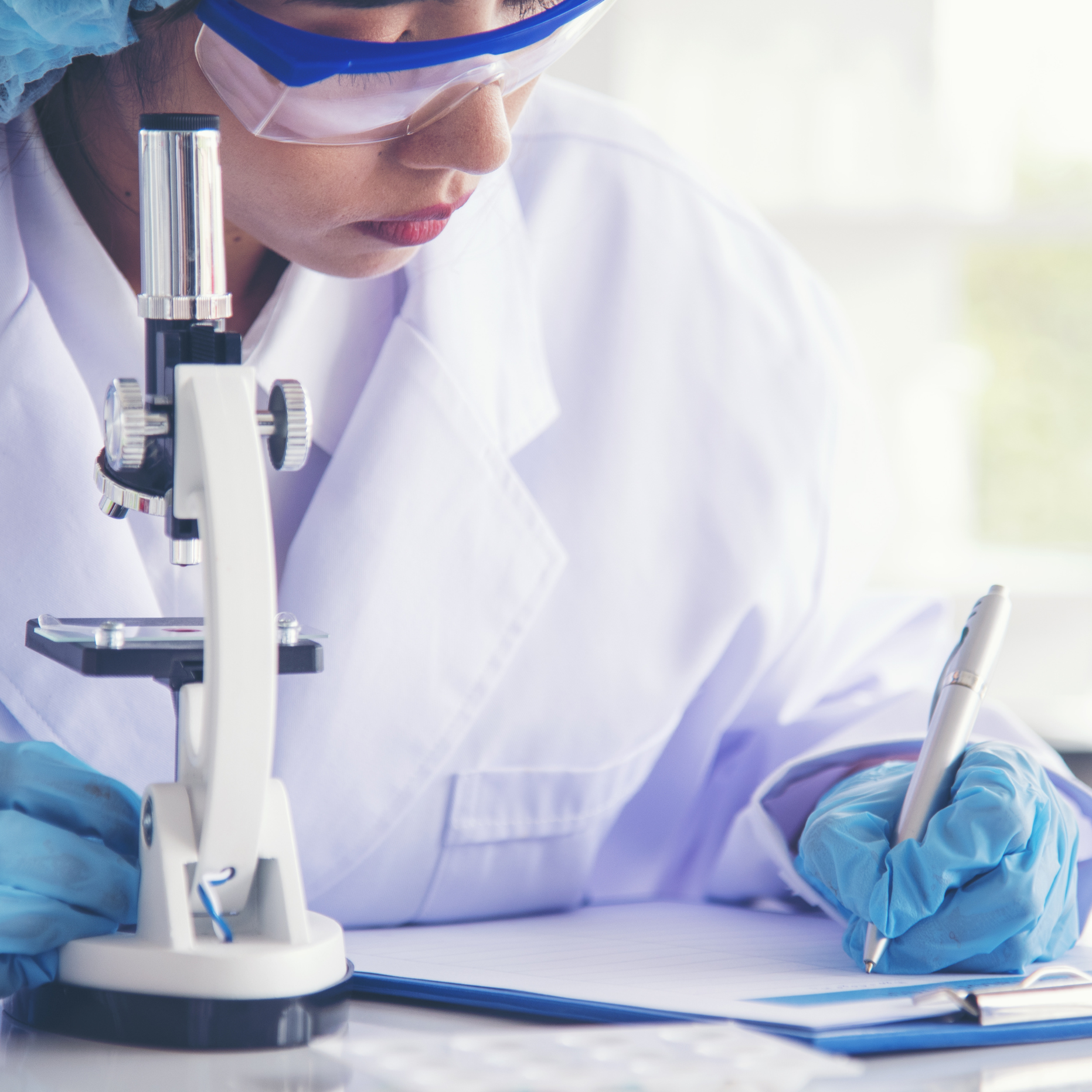 Abortion Pill Reversal: An Exploratory Investigation
The results of this study show that in a rat model, of the pregnant rats which were given mifepristone (the abortion pill drug), those which underwent the abortion pill reversal regimen (the natural hormone, progesterone), the majority (81.3%) saw a reversal in the effects of the mifepristone, resulting in living offspring at the end of gestation.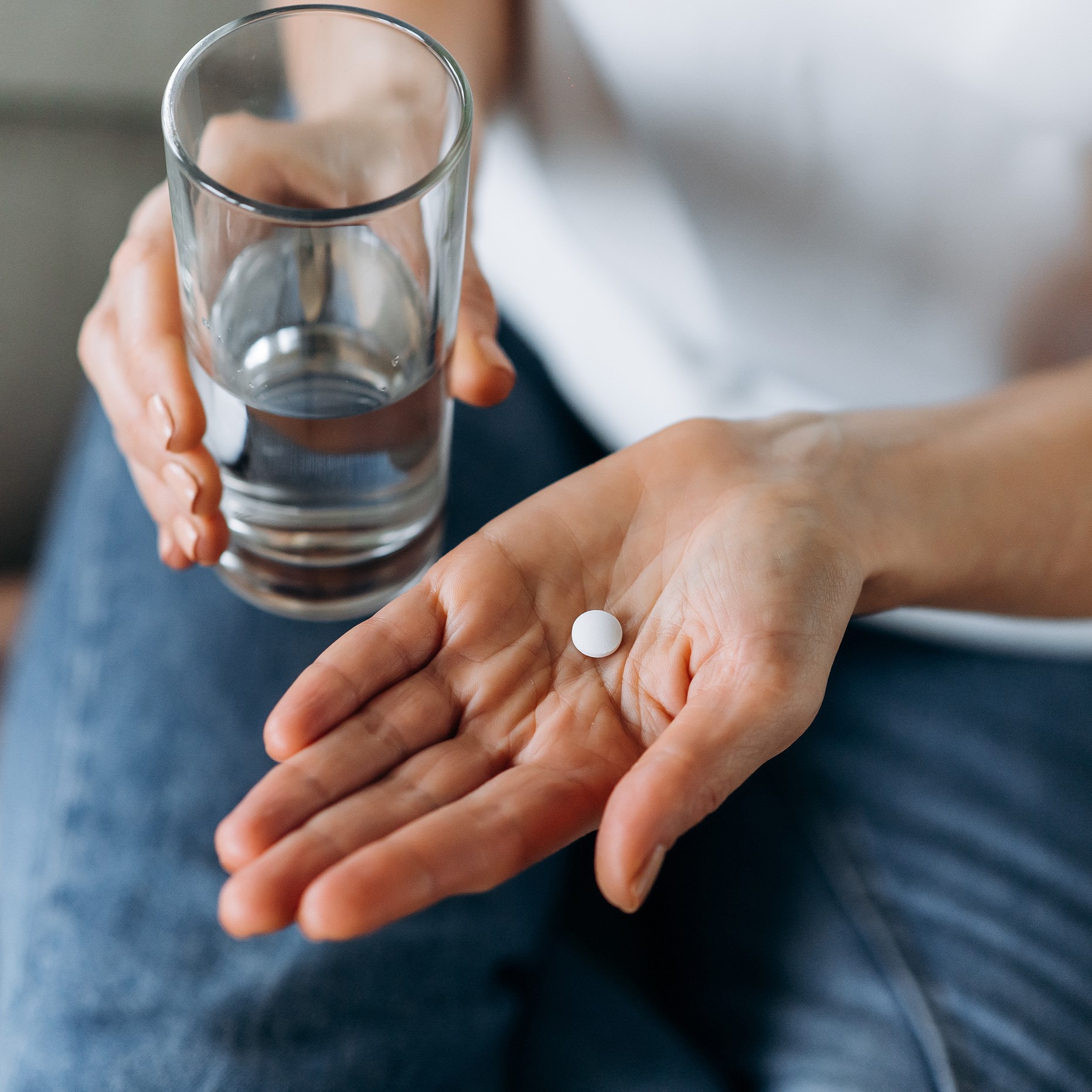 Long term impact of medication abortion
With abortion on the national stage, this study provides an opportunity to shine a light on women who are too often overlooked—the millions who suffer psychologically after abortion, sometimes years after the event.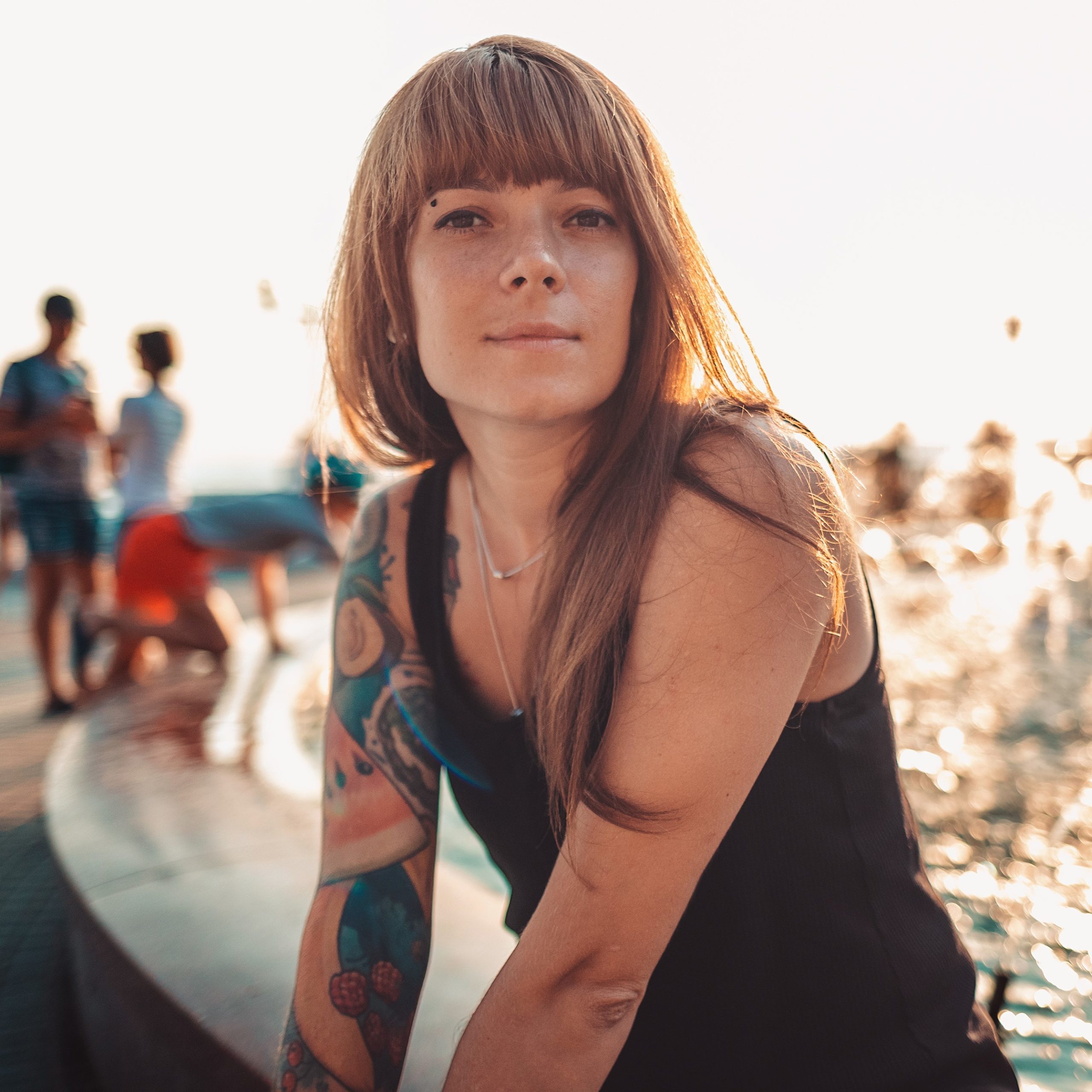 Study of Women Who Have Had an Abortion and Their Views on Church
This study surveyed a nationally balanced sample of American women who indicated they had had a pregnancy termination or abortion procedure. Over 1,000 surveys were conducted and the results from this 2015 study correct misconceptions many pro-lifers have about the incidence of abortion in the church.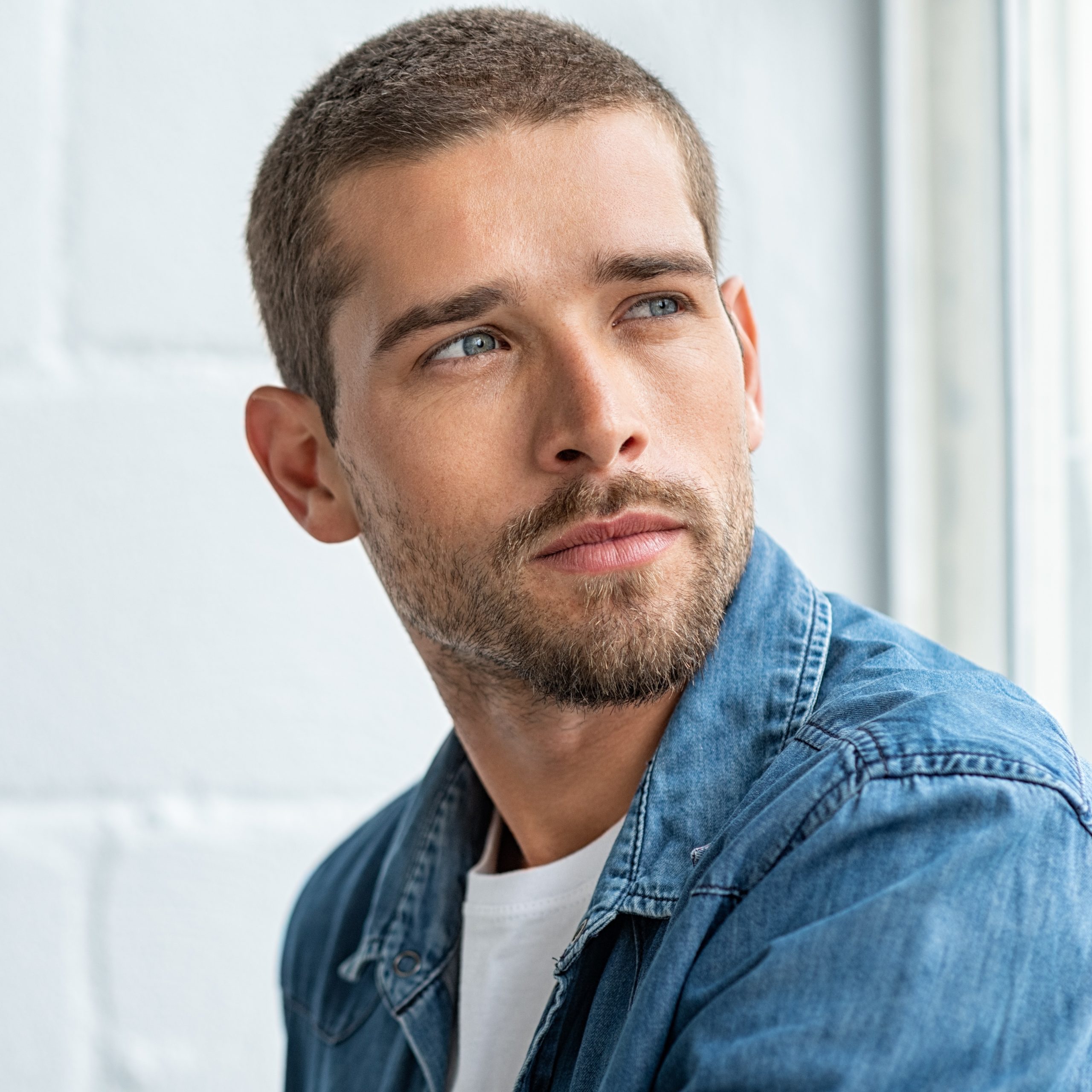 Study of Men and Abortion
The Care Net Study of Men whose Partner has had an Abortion was originated and commissioned by Care Net. The objectives of this quantitative study were: 1) to measure specifically what percentage of men were attending church at the time their partner/spouse had an abortion, 2) to understand men's opinions about the unplanned pregnancy and the influence men have on their partner/spouse to have an abortion, and 3) to understand the opinions of men whose partner/spouse has had an abortion regarding how safe, open, and helpful churches are when making a decision about an unwanted pregnancy.
Want to submit your research? Click the button to the right to get started!
Videos developed using
Vitae Foundation's research
For many of more "seasoned" supporters, they remember Vitae Foundation as "the TV people". Vitae's pro-woman commercials caused a paradigm shift in the Pro-Life Movement's messaging. Enjoy these "classics" from back in the day.